Transitions
Over the course of any playing career, athletes will go through a number of different phases. They will evolve, adapt and hopefully overcome many physical and mental obstacles to reach their potential or highest level of performance. However, this highest level of performance is not the exact same across time. At various stages of life the athlete will likely possess different strengths and weaknesses. As the athlete in question ages, these strengths and weaknesses will dynamically change in line with their mental and physical attributes.
It is a simple fact of life that as we age, our physical performance may drop-off as we struggle to retain qualities of speed, power and repeatability. However, as these qualities are progressively reduced, our psychological performance may improve. We become more tactically astute, more technically sound in our abilities to perform specific skills and a lot more comfortable in how we approach the game. This comfort in ourselves and improved self-awareness may lead to stronger coping skills, a reduction in our fear of failure and a confidence in our ability to face adversity. I like one word to sum it up. Bouncebackability.
Handling Adversity
This "bouncebackability" is often not inherently natural. It is developed by experiences over time. Only by going through adversity and learning some valuable lessons, can an athlete truly grow to exhibit their ultimate potential. 
We hear Ronan O'Gara talk about it quite often. He always speaks about his experience with Munster in Twickenham, in the year 2000, with paradoxical elements of hurt and value. It seems that he now values the hurt that he experienced that day, as he is well aware that it made him into the world-class player that he eventually became. I can't help but see similarities in his experience then, and Ben Healy's experience in the Quarter Final, this year vs Toulouse. Who knows, we may well be seeing the birth of another Munster legend as a result of an incredibly tough experience.
Healy is still in the early stages of his career. Yet to make the transition from a young apprentice and bit part player, into a club stalwart and well-renowned top performer. And athletes go through this phase of their career no matter what the sport. They ultimately make that transition themselves but the transitions can be accelerated and guided by the right coach at the right time. The right coach to help you through the later stages of your career, most likely will not be the same one that helped you become comfortable in a professional setup in the first place.
Right Coach For The Right Time
We see this time and time again, when athletes are asked who has had the biggest impact on their careers. They typically reflect back on their experiences at youth level and the coaches that helped them develop a love for their sport. No doubt that this coach would not be the right coach to take the reins for the athlete at the elite level, but they were the right coach for the athlete at that time.
If we take "The Last Dance" and Michael Jordan as an example, we can get a feel for how athletes go through transitory phases during their careers and how the right coach can help guide them to a new level of performance.
In his high school days, he was told that he wasn't good enough for the junior varsity squad, but he was told to go away and work on his skills for the year and come back and try-out again next year. In this way, his coach at the time, Pop Harring, showed him that just because he wasn't at a certain level at the time, it didn't mean that he couldn't get to that level through hard work and dedication. In this way, he managed to instil in the young man a value for hard work, a growth mindset and a love of the game. All which contributed to Michael's bouncebackability.
As he transitioned into university with UNC, he started working with Roy Williams and Dean Smith. He was again pushed by these two coaches, who again instilled the values of hard work and dedication in the young man. There's the famous story of Roy Williams asking him how good he wanted to be, to which Mike responded, "I want to be the best". This led to Williams outlining that he needed to work not as much as everyone else but "harder than anyone else". Another valuable piece of encouragement at that stage of his development.
Bobby Knight with his innate positivity as coach of Team USA, gave Michael confidence in his abilities at the highest level, but also reigned him back in and kept his ego in check. He let him know that he was an incredibly gifted athlete, but that he still would never be bigger than the team.
Stan Albeck and Doug Collins grew his leadership abilities and entrusted him with the huge responsibility of being the face of the franchise and team leader for the Bulls. However, after Jordan became the undoubted best player in the NBA, he outgrew both of these coaches. If he were to achieve the holy grail of an NBA championship, he would have to grow in other areas. This is where perhaps his greatest and most important coach came in. Phil Jackson.
In order for the Bulls and Jordan to move forward and start winning championship rings, Jordan would have to relinquish some of his power and responsibility. He would have to trust his teammates more and he would have to play the right pass at the right time, rather than just endlessly taking it to the hoop. He needed help shouldering the load. And what happened? The Bulls won 6 championships in 7 seasons, with Jordan's teammates playing a more crucial role. Again, the right coach at the right time.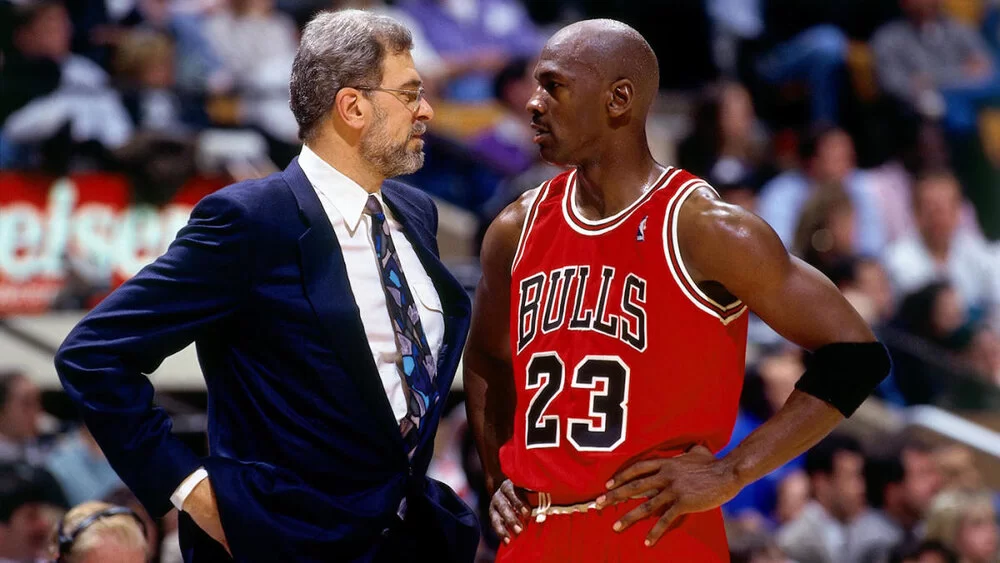 Ask, And It Will Be Given To You
This example of the greatest athlete of all time shows us that some part of a great career in sport or athletics comes down to luck. That luck is not in relation to anything else but to your team or club employing the right coach for you, at that given moment in time. But equally, in the society we find ourselves in today, it's become easier and easier to seek out great coaching. In the private setting, almost any coach can be at our fingertips due to the resources of the internet, email and social media. 
So my advice to any of you out there that are going through a transition in your sporting career, is to send that message and reach out to the person that can take you to the next level. It might be a difficult thing to do to leave a coach who you've already developed a great working relationship with, but it might be necessary if you are to take your game to the next level.
To get there, maybe all you need is the right guidance.