Following impressive displays by both Codie Taylor and Ardie Savea last weekend in Super Rugby Aotearoa, a number of online analysts have been describing them as "forwards that play like backs". Now these statements may have been made with flattery in mind, but I believe that they may indeed achieve the opposite. In the grander scheme of things, this is not a major problem. However, language is the vehicle of communication and how we use it has a clear impression on other people's perceptions. In this article I will outline why I believe this statement may be problematic, and why we should attempt to throw it out for good.
Now, I am not saying that these small statements can have a detrimental impact on society as a whole. If you want to continue using such expressions then by all means do. I'm sure you won't illicit some sort of cataclysmic world event. What I'm simply trying to do is outline my feelings on the matter, and explain why I believe the description to be nonsensical.
Firstly, I believe it to be slightly disingenuous to forwards to compare them to backs, in relation to displays of their undoubted skill and brilliance. The way some refer to them, is as if they should be counting themselves lucky, to be able to grace the field, with their teammates wearing numbers of a "higher value".
Why can't a forward provide an expert clearance, sidestep an opponent or put a deft grubber in behind? Why can't Ardie Savea or Michael Leitch leave a defender clutching at their heels? Why can't Codie Taylor or Dane Coles spin a cutout pass, that puts his teammate through a hole? Why can't we just appreciate these moments as fantastic pieces of skill, rather than lumping "for a forward" on the back of the statement? What's with the backhanded compliments? It's almost like telling Katie Taylor that she punches hard "for a girl". By god buster, you better wake up and apologise.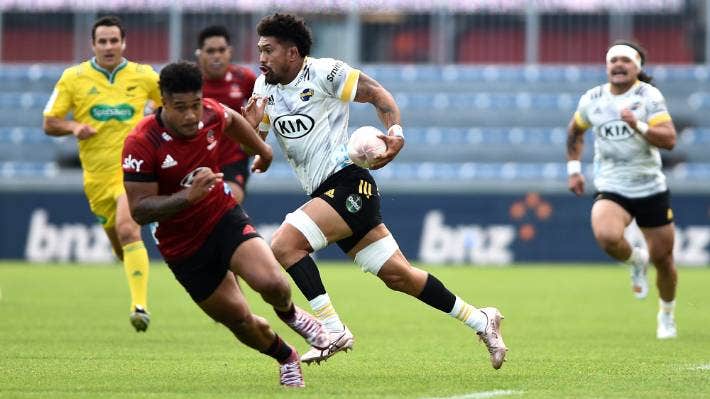 All of the skills that I've just described are universal skills of the game. The reason that these forwards can perform the skills with such a high level of proficiency, is because no coach ever told them that they couldn't or shouldn't. Unfortunately, this is something that seems to be almost unique to New Zealand. In "the land of the long white cloud", you're expected to make the pass, go through the hole, beat the man, regardless of the number you're wearing on your back. Then because you're expected to do so, you get the opportunity to practice executing the skills more often in training.
After all, everyone should be able to run a good attacking-support line, tackle an oncoming attacker to ground and deliver a crucial catch-pass on the edge. Why then, should not everyone on the field, be able to perform the other skills of the game as well? Just because you're a second-row, doesn't mean you can't kick goals. Ask John Eales. Just because you're a number eight, doesn't mean you can't slot a drop-goal from halfway. Case in point, Zinzan Brooke. And then I challenge you, to go tell Keith Wood that he can't spiral a kick to touch. Or tell Peter O'Mahony that he can't place a grubber in behind.
Sure, all of these guys are legends of the game, but shouldn't every schoolboy aspire to be a legend of the game? If you continue using conservative language when describing the exploits of the big men, then aren't we just going to churn out more conservative players? "Ok I'm a forward, so I shouldn't do this. I'll hold onto the ball and go to ground".
When George North steamrolls someone, we don't say that he "ran him over like a number eight". When Bundee Aki smashes someone, we don't say that he "tackled him like an openside". So then, can we all agree that the next time a forward attempts an audacious offload or a chip over the top, we just appreciate it for what it is? A fantastic piece of skill, from a brilliant rugby player. Maybe in time, we'll begin to see other nations producing a conveyor-belt of technically-astute men up front.